Special day  for pups from litter "A"  Macushla today, they celebrates 4.th months.
All have got awesome owners and I am very happy, that they have got funny life...
And such every day, but today specialy I remember on Regan..  she miss me very much..
Macushla  litter "A" date of birth 9. 2. 2015 – 3 boys a 4 girls
Puppies are already 5 weeks old and they are everywhere : - ) They carry together in the garden , but also in living room .They love sleep in bed moms . They eat in the bar, much to chew on prill , veal meat, cod , fruits, vegetables, but also of milk from his mother . The weekend had already been look new owners who were very nice and we believe that our puppies they will have a great time .
We're expecting our first litter A
Mating was on 11th and 12th of december 2014:
Aibell Amelie Canisnat & Pitlochry´s O Bryan Orak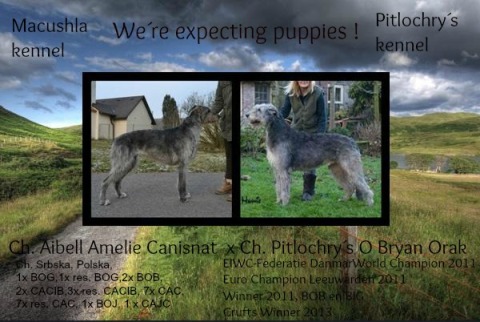 Rodokmen vrhu A :
Ch. Pitlochry´s

      O Bryan-Orak

(World Winner 2011)

Pitlochry's King-Kevin
Ch. Ballyphelan Bran Beag
Ch. Pitlochry's Pamela
Ch. Celtic Myst Brolley
Ch. Pitlochry's Jack Eagle
Yacousi of Tréacka's Garden
Ch. Aibell Amelie Canisnat
Ch. Eraser of First. Avenue
Ch. Quincy of Kilmara
Rathkeale´s Jewel
Amelie Agartha
Ch. Arturt Flinstone pod Štírkou
Barbarela z Dablinu